What actually were Ted Talks?
And are they finally over?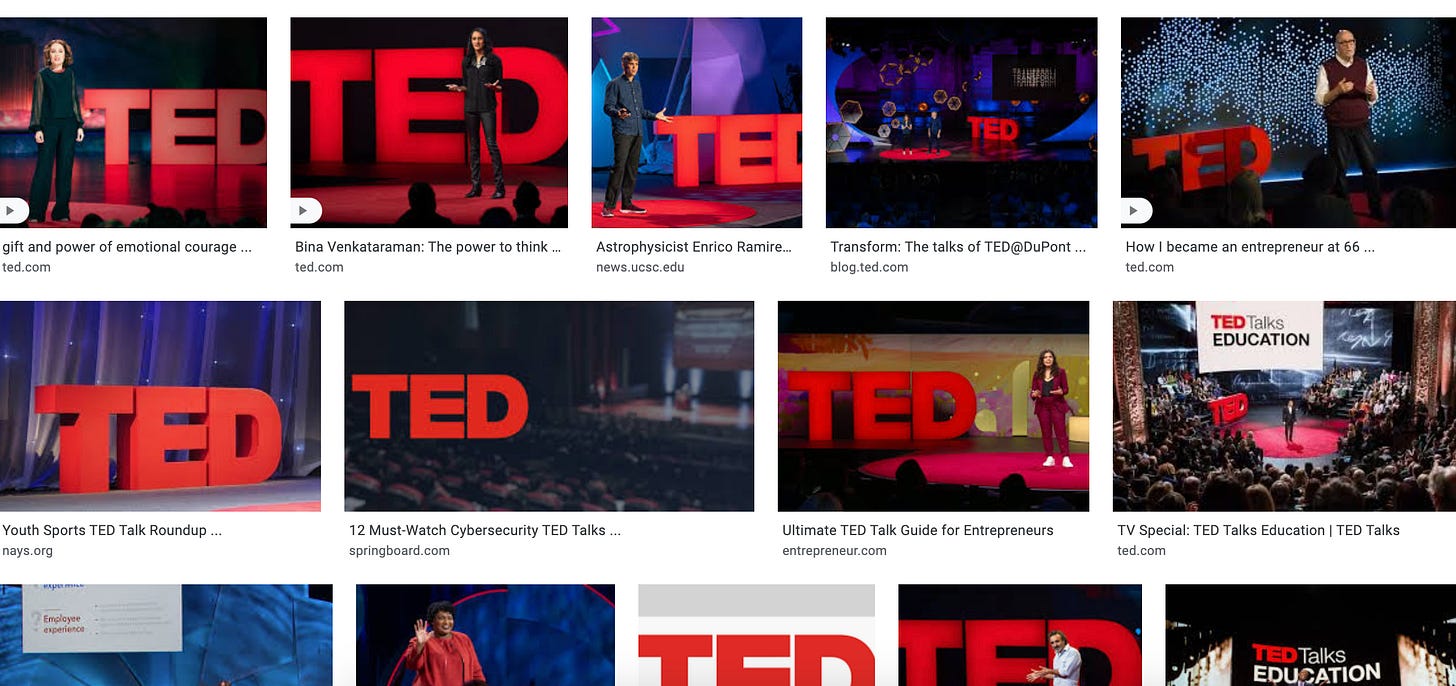 I was lying in bed and thought: What happened to all of those good ideas in the Ted Talks? The ones that used to get shared via email and Facebook 7-9 years ago, the Golden Age of Ted, when robots of the not too distant future would eat garbage and turn it into oxygen. I went to the Ted website, which is still quite popular, and randomly clicked on one. A woman in a black dress stands on the stage in front of a faceless audience. "When I was nine years old I went off to summer camp for the first time and my mother packed me a suitcase full of books," she begins in a talk about introverts. The video felt of a bygone internet era, almost nostalgic. Ted Talks, at their prime, were the quintessence of a certain type of cultural or aesthetic product, one that I feel that the culture has moved on from, but what was that exactly? In other words, now that some time has passed and the trash-eating robots haven't arrived, what were Ted Talks?
¶
In 2012, maybe the high water mark in the Golden Age of Ted Talks, Sianne Ngai wrote a book called Our Aesthetic Categories: Zany, Cute, Interesting. She argues that these three aesthetic categories, although marginal to aesthetic theory, are best suited for grasping the aesthetic experience in the "hypercommified, information-saturated, performance driven conditions of late capitalism." Most relevant to Ted Talks is the final category, interesting. Interesting, Ngai says, is about realism. It teaches you something about the world. For something to be interesting, though, it has to also offer a "surprise" or some element of novelty. "Always connected to the relatively small surprise of information or variation from an existing norm, the interesting marks a tension between the unknown and the already known," she writes. This is what makes Bitcoin interesting... and neuroscience, AI, quantum physics. But really, to call something "interesting" is a notoriously weak evaluation. Interesting content is supposed to be consumed and repeated, not really internalized, critiqued, questioned in any meaningful way.
¶
Ted Talks were clearly interesting in this aesthetic sense. But there was something else happening, too. The experience of watching the Ted Talk was not purely cerebral, not totally regulated by ideas. You were also supposed to be "inspired". Inspirational is not often described as an aesthetic category but if it were, it might be most easily understood or clarified in relation to narrative. An inspirational narrative involves overcoming and transformation and in the end perspective. Paulo Coelho's book The Alchemist is inspirational. Lots of advertising uses "inspirational" as a way to sell products or services. An ad for a bank that follows the life of a family as they save up and buy a house or something. Inspirational content offers the vicarious experience of transformation and perspective to the consumer without anything changing. It offers meaningful-seeming escapism.
¶
Ted Talks — or at least the popular ones that were shared widely — I think, maybe, offered a formulaic synthesis of the interesting and the inspiring. They had an idea or a fact (interesting) and a story (inspiring). Neuroscience is interesting. A story about a man overcoming a stroke is inspiring. Put them together. You have a Ted Talk. If I were giving a Ted Talk now, I'd come up with a name for this aesthetic category. I'd call it "Inspiresting". Ted was maybe the ultimate expression of Inspiresting as an aesthetic category, but it was part of something larger. Malcolm Gladwell, Inspiresting. The blog Brain Pickings was Inspiresting. This American Life and Radiolab, and maybe narrative podcasting as form was Inspiresting. Oliver Sacks and Bill Bryson, the origins of Inspiresting. The best way to respond to Inspiresting content is to write down notes and draw little cartoons about the content in a notebook and then Instagram it after. 
¶
I have some insight into the production of Inspiresting content. In 2015 I was sitting in the library and got a call from a friend. She was scheduled to give a Ted Talk in Sydney but had, at the last minute, decided against it. She asked if I would do it in her place. I had chosen a PhD topic of my aesthetic moment, one that happened to be extremely Inspiresting. My topic was looking at whether computers (interesting) could write poetry (inspiring). As part of my research, a friend and I built a website where you could go and play a Turing Test for poetry — you were presented with a poem and you had to guess whether it was computer generated or written by a human. I thought it would be a good idea to do a Ted Talk where I simply walked the audience through this game (interesting). I suggested this to the Ted program director and performance coach the next day via Skype. They both agreed it was a good idea, but the performance coach, who had in fact written a book coaching people how to "speak more like a Ted Talk" told me that my talk was missing a narrative, and that it needed to end with a "moment of inspiration." He asked me to "zoom out" and offer the viewer the most "perspective" possible. "What does this computer poetry tell us about the story of the human race," he asked. 
¶
I gave the speech a few weeks later, ending the speech by suggesting that computer poetry demands of us a "moment of species-wide existential reflection," which pleased the performance coach, though I doubted it quietly myself. Given the successful inspirestingness of my talk it was featured on the front page of the Ted Talk website. I got lots of new followers on Twitter and some emails, including one inviting me to an all-expenses paid trip to a university in Switzerland as a "creative AI" expert. I told them I was a literature student not an expert in "creative AI". They said it didn't matter. I went to the conference and met other young people with Inspiresting ideas. A man who was using drones (interesting) to monitor forests (inspiring). The point of the conference was for the young people to explain their Inspiresting ideas to wealthier, older people in the evenings, where everyone gathered around the "$200,000 whiskey bar", as the bar had been described numerous times in emails leading up to the conference. The most popular young person was a French woman who was using machine learning (the most interesting thing of all) to help refugees (the most inspiring people of all?) She, in fact, understood that it was the combination of these two things that made her pitch so attractive. She called her idea "tech-fugees". 
¶
I think that Ted Talks are more or less irrelevant now? There were many critiques of Ted Talks and what they signified about our culture back when they were popular. One "media theorist" famously used his Ted Talk opportunity as a way to explain why they were bullshit and destroying real innovation. Someone else gave a Ted Talk that distilled down the Inspiresting formula so acutely that it triggered the affective response that people had become accustomed to while listening without conveying any information. These weren't just critiques of Ted Talks but of the mainstream cultural attitudes, which seemed somehow correlated with the Obama years, that allowed Ted Talks to become so insanely popular. The cultural theorist Lauren Berlant called this attitude "Cruel Optimism", an attachment to dreams that we know won't come true, an amalgam of fantasy and futility. The cruel optimism of the Ted Talk made us believe, against our better judgment, in robots that could convert trash into oxygen. Or that we would somehow all come together to prevent the next pandemic despite being horribly unprepared.
¶
Outside thinking about Ted Talks, I've been watching All Gas No Breaks coverage of what's happening in Portland, and basically just the whole back catalog. In the lead up to this election, I'm reading about what went wrong with the last one in Network Propaganda: Manipulation, Disinformation, and Radicalization in American Politics. I watched the new season of Search Party, which I really loved, and in some ways feels like the opposite of cruel optimism — compassionate pessimism? My friend Tara is writing compelling content about reality TV. I have a story coming out next week about protests and violence that I'm looking forward to sharing. If you enjoy the newsletter, please like and share with your friends.